A world wide impression
A world wide impression
Papermaking
Whatever the preferred properties or cultural demands, Voith is the respected and experienced supplier of complete tissue machines and high-quality components, from stock preparation through to finishing. We present the customers' viewpoint.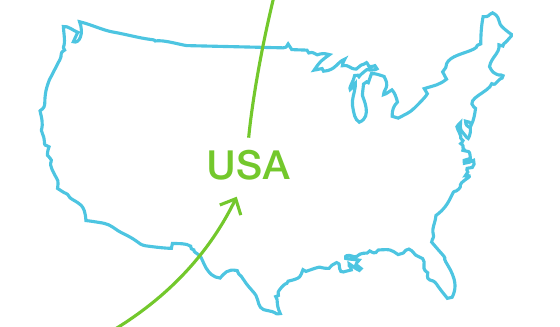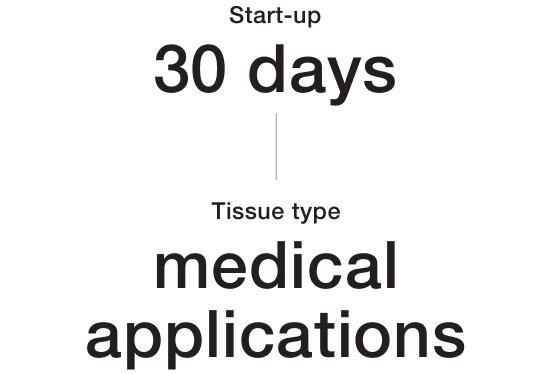 In October 2017, Voith concluded the start-up of the XcelLine VTM 3 tissue machine supplied to Little Rapids Corporation, the US tissue and specialty paper manufacturer. The new machine replaced the company's old PM 3 at its Shawano production facility in Wisconsin. Ron Thiry, Vice President and General Manager, is satisfied with the results.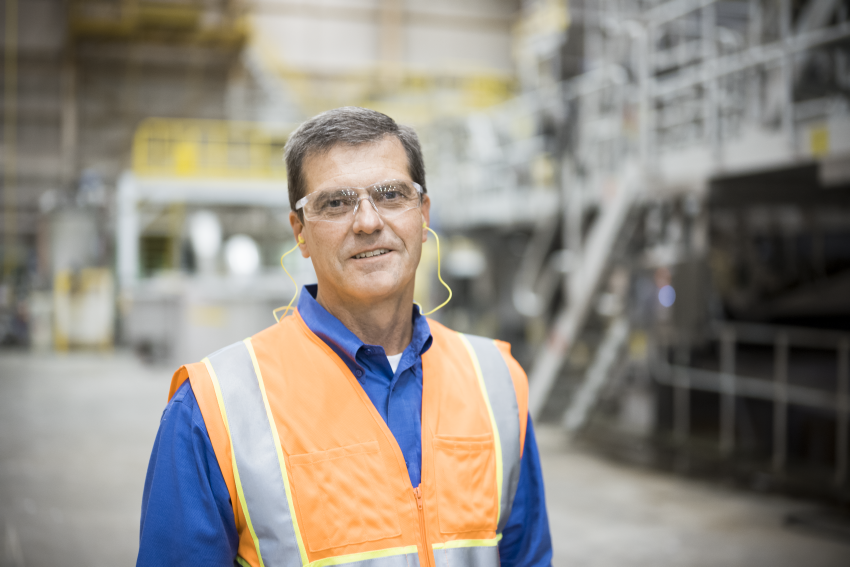 A key benefit of this type of machine is that we can achieve higher bulk and softness without sacrificing strength.

"On this XcelLine VTM 3, we will be producing dry crepe tissue grades for medical applications, such as products commonly found in US physician offices and in medical procedure kits. We will also produce tissue that is used in special-occasion napkins and personal-care items. A key benefit of this type of machine is that we can achieve higher bulk and softness without sacrificing strength. To support the production of printed special-occasion napkins, we have developed a proprietary process for bonding multiple plies together. This process is offline from the tissue machine. The collaboration with the various teams from Voith was excellent and allowed us to prepare for a very tight installation schedule. The commissioning and start-up was extremely helpful in identifying issues and working to resolution in a very professional and timely manner."


---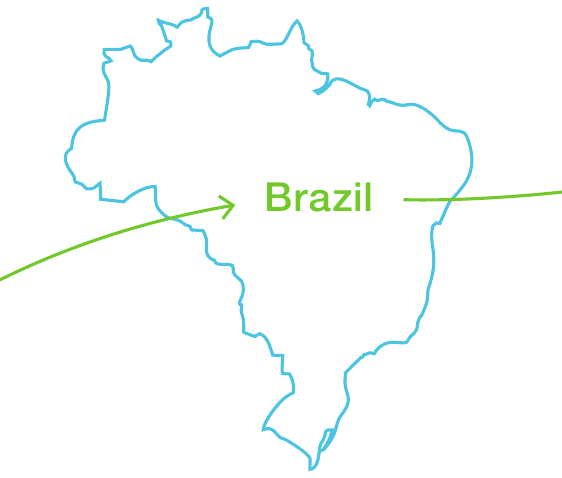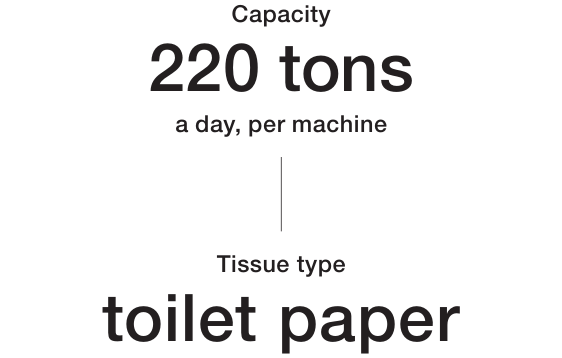 With an annual production capacity of 4.7 million metric tons, Suzano Pulp and Paper is one of the largest producers of pulp and paper in Latin America. In 2017, Voith delivered and installed two complete XcelLine tissue machines for the company. Within the Process Line Package, Voith also supplies the auxiliary equipment and services. Fabio Prado, Executive Director for Consumer Goods, explains why Voith was the preferred partner.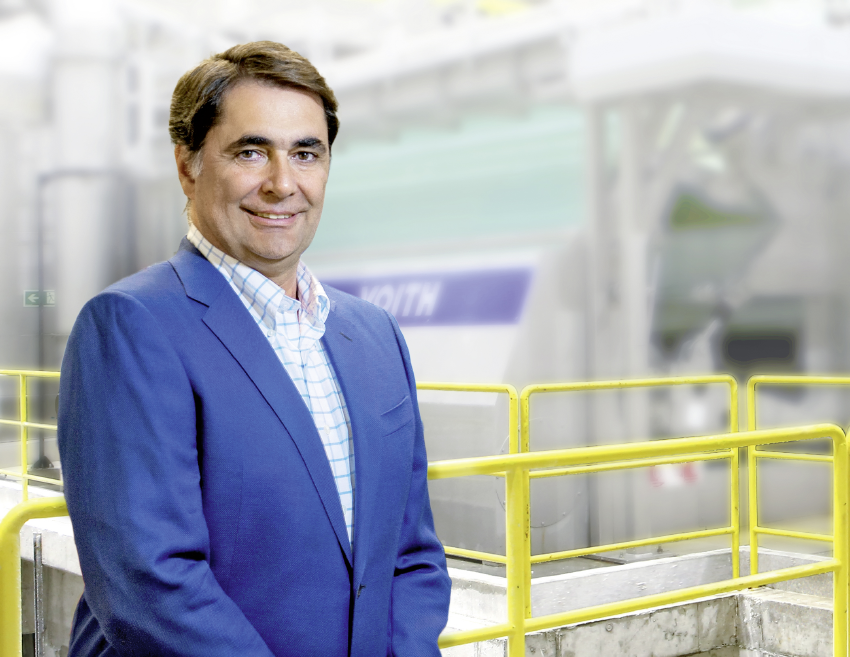 The high-performing Voith tissue machines will provide excellent productivity rates and the best paper in Brazil.

"Brazil's toilet paper market is currently changing, as it is migrating from single to double and triple sheets. This trend, which has already taken place in several Latin American countries, is now seen more clearly in Brazil. This proves that consumers are increasingly concerned about product quality. Consumers notice that besides quality, migrating to the double and triple sheets really adds value for them. This is because the higher the product's quality, the lower its cost per use. Since consumption is measured per sheet, the migration from single to double sheet brings nearly 10% of cost-per-use savings. From double to triple sheet provides an additional 10% savings.

Voith has been our partner for decades. Along with the coordination services for the supply of Voith's auxiliary equipment, we are absolutely convinced that the Voith highperforming tissue machines for our sanitary paper mills in the Brazilian Northeast region will provide excellent productivity rates and the best paper in the Brazilian market. That is our strategy: to offer a product that combines high quality, higher softness, great efficiency, that can be purchased in the most important points of sale in the regions we cover. Our location allows us to improve the supply of products in the Brazilian North and Northeast regions, where per capita consumption of toilet paper currently represents less than half of the national average."


---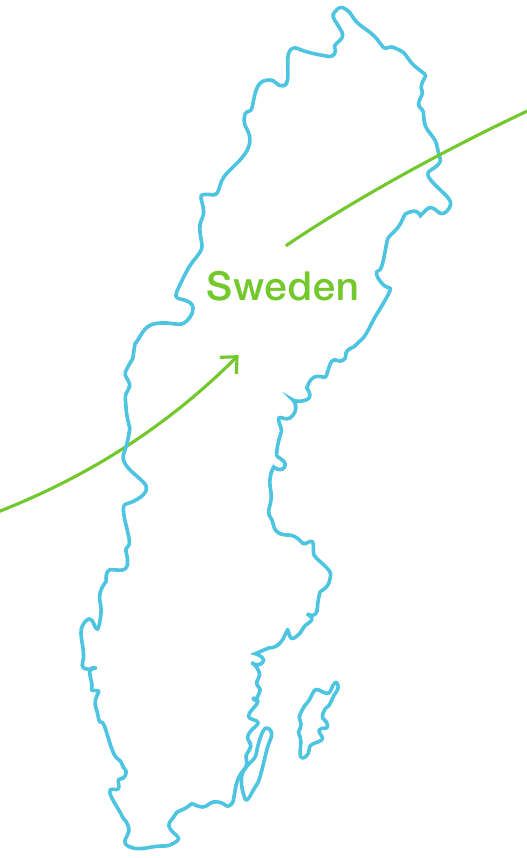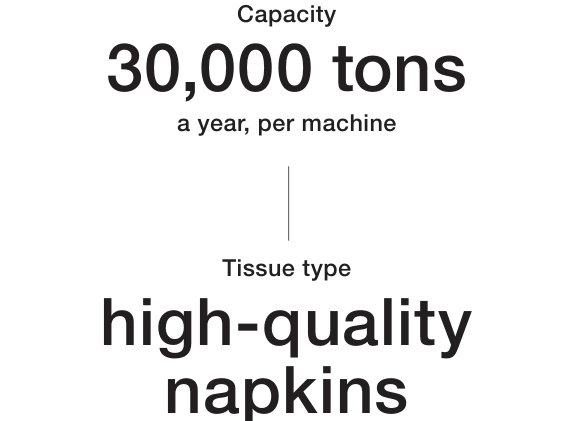 Duni/Rexcell is the market-leader of eco-conscious premium tabletop products. Over two years, Voith and Duni developed a tailored solution for the company's two existing tissue machines using TissueLev technology, the Voith add-on that can be retrofitted to machines. After repeated trials in 2015, confirming the promising results, an order was placed in summer 2015. Each rebuild took only 5 days at the beginning of 2016, with only 4 weeks between the first and second machine. Stefan Åbom, the Managing Director at Duni/Rexcell, highlights the keys to success.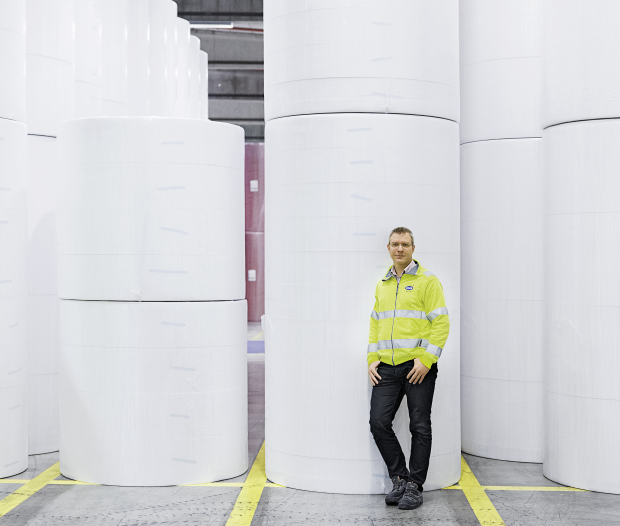 Voith innovations support us by making it possible to realize our ideas about the next generation of tissue.

"We manufacture paper for tissue in one, two or three layers, between 15 and 25 grams per square meter and in more than 30 different colors. Rexcell tissue is exclusively used for tabletop products, such as napkins. With our 'goodfoodmood' initiative, we intend to grow into the world's most attractive provider of inspirational tabletop concepts. This ambition is carried by outstanding quality and premium products. Beside colors and designs, the most important feature for our end-users is thickness and softness/stiffness. The TissueLev technology developed with Voith improves all of these features, but especially the thickness. Voith innovations support us by making it possible to realize our ideas about the next generation of tissue, which improves the qualities appreciated by our customer, as well as increases our capacity on existing grades. I would highlight three things. The professional cooperation between our companies. The equipment, as Voith technology is at the leading edge. Finally, the people. Our partnership shows how two organizations can work together, both supporting and challenging each other to reach our mutual goals."


---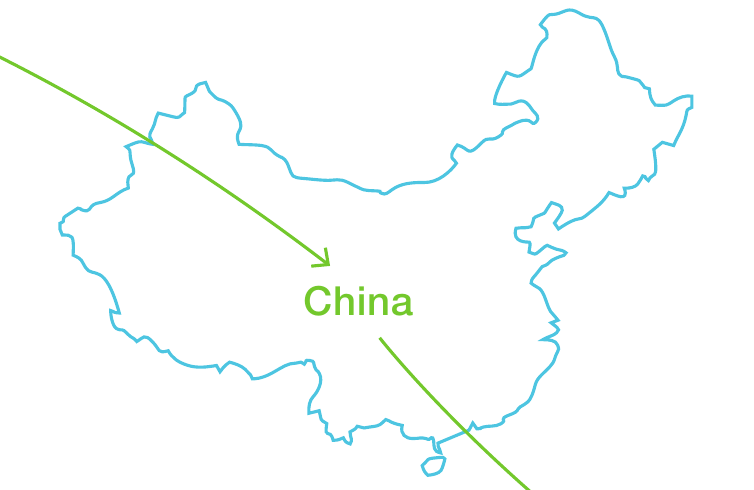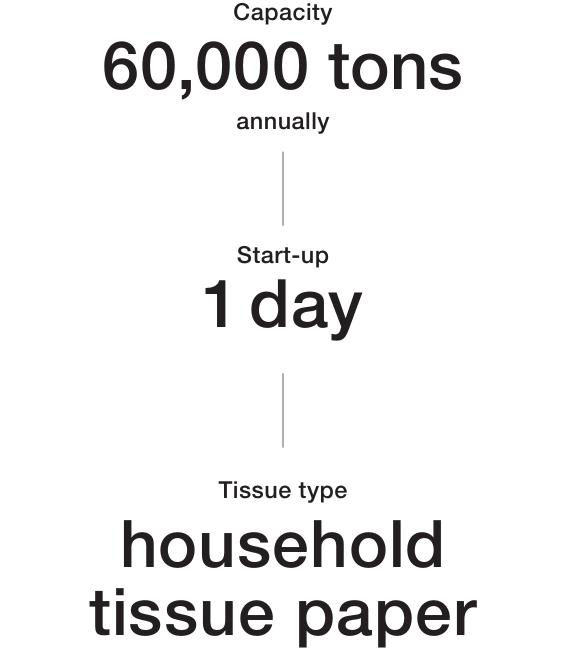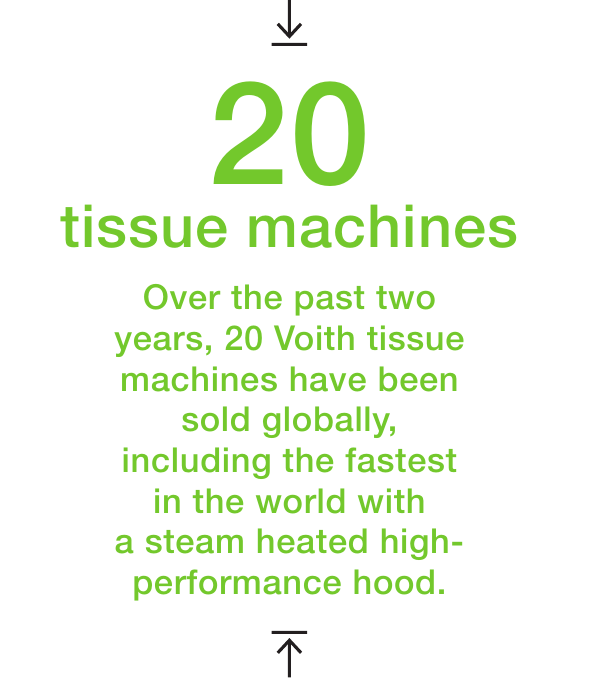 In 2017, four XcelLine tissue machines were launched by Voith for Lee & Man, including TM 12. The tissue machines are very flexible in production to meet different needs of the end customers. The tissue weighs between 13 to 17 grams per square meter. The annual output of TM 12 is 60,000 tons, and the wire width is 5,600 mm, while its maximum operational speed is 2,000 m/min. During the start-up, from "stock on wire" to "paper on reel" it took only 28 minutes. From the very first parent roll produced, the tissue was of saleable quality. Harry Ng, General Manager, Lee & Man Tissue, and Alfred Lai, Operation Manager, highlight their positive experience of working with Voith.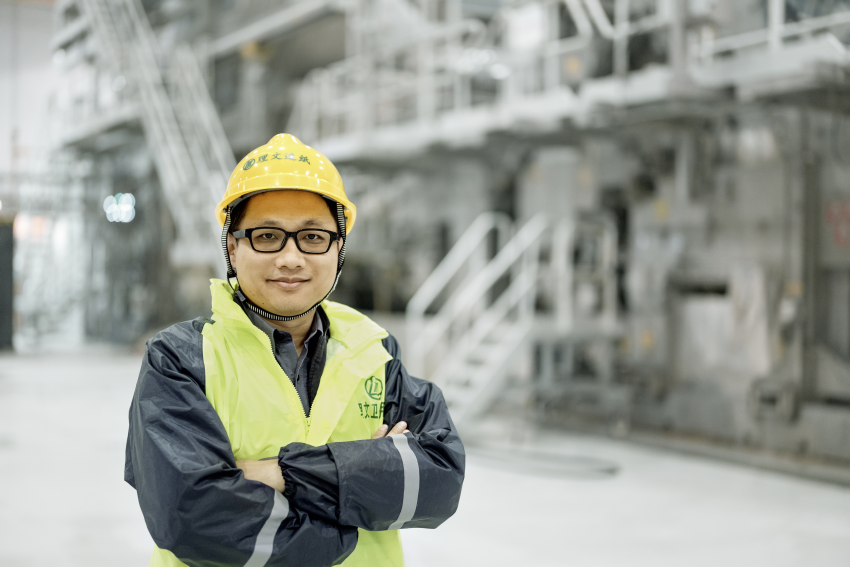 "Cantonese customers in southern China prefer tissues with a soft feel, while in Chongqing, central China, weight is more important. As a result, the tissue paper produced in the Chongqing base is mainly targeted at consumer groups in Chongqing and the surrounding area, while the tissues produced in Dongguan cover the consumer groups in Guangdong and nearby areas. We take measures to adapt the production to local conditions."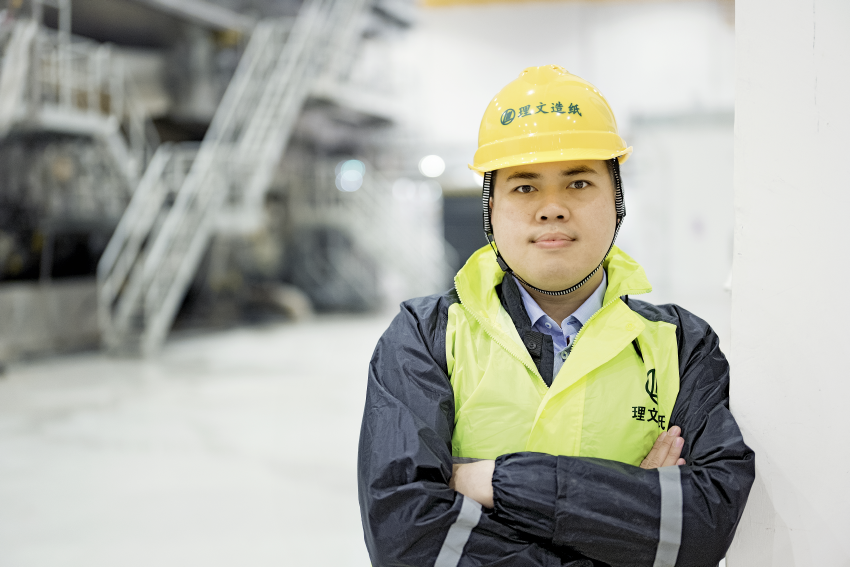 We've built up a good rapport over our multiple cooperations.

"We're impressed with their swift response and professional service. We've built up a good rapport over our multiple cooperations. The team at Voith has tracked the whole process, handling machine-related issues in a timely manner, with excellent technology and high efficiency. Their support allows me to see their expertise. To sum up, Division Paper is a very good partner."