Data, algorithms and deep learning: how artificial intelligence works
Data, algorithms and deep learning: how artificial intelligence works
InternetofThings
Artificial intelligence (AI) in industry has long been more than just a future vision; it is a reality – for example, by optimizing systems through proactive maintenance. Technology companies are working intensely on a future where machines with artificial intelligence increase efficiency and simplify the routine working day of their human colleagues. Voith is already showing the practical applications of AI at a hydropower plant in Budarhals, Iceland.
AI is on the rise, because in recent years the basic conditions for AI systems have changed in unprecedented ways. Two things in this regard are critical: First, the amount of data has increased exponentially. The total volume of data in existence was estimated to be 16.1 zettabytes in 2016. Based on data volume, this corresponds to all of the series and films stored on Netflix viewed 500 million times. Second, the performance capability of computers, the storage capacity of the cloud, and the ability of software to process data in real time have improved significantly at the same time.
Three success factors of AI
Artificial intelligence brings together specific skills of the human brain with the possibilities of modern data processing. The human brain is capable of learning, can think abstractly, and can process sensations. Computers can calculate extremely fast and very reliably, and they are available around the clock, 365 days per year. The performance of artificial intelligence depends on three main factors: the quality and relevance of the data, the algorithms that process said data, and the skills of highly qualified data specialists who tell the algorithms what they should do, train them and check till they are able to work independently.
Budarhals – an intelligent power plant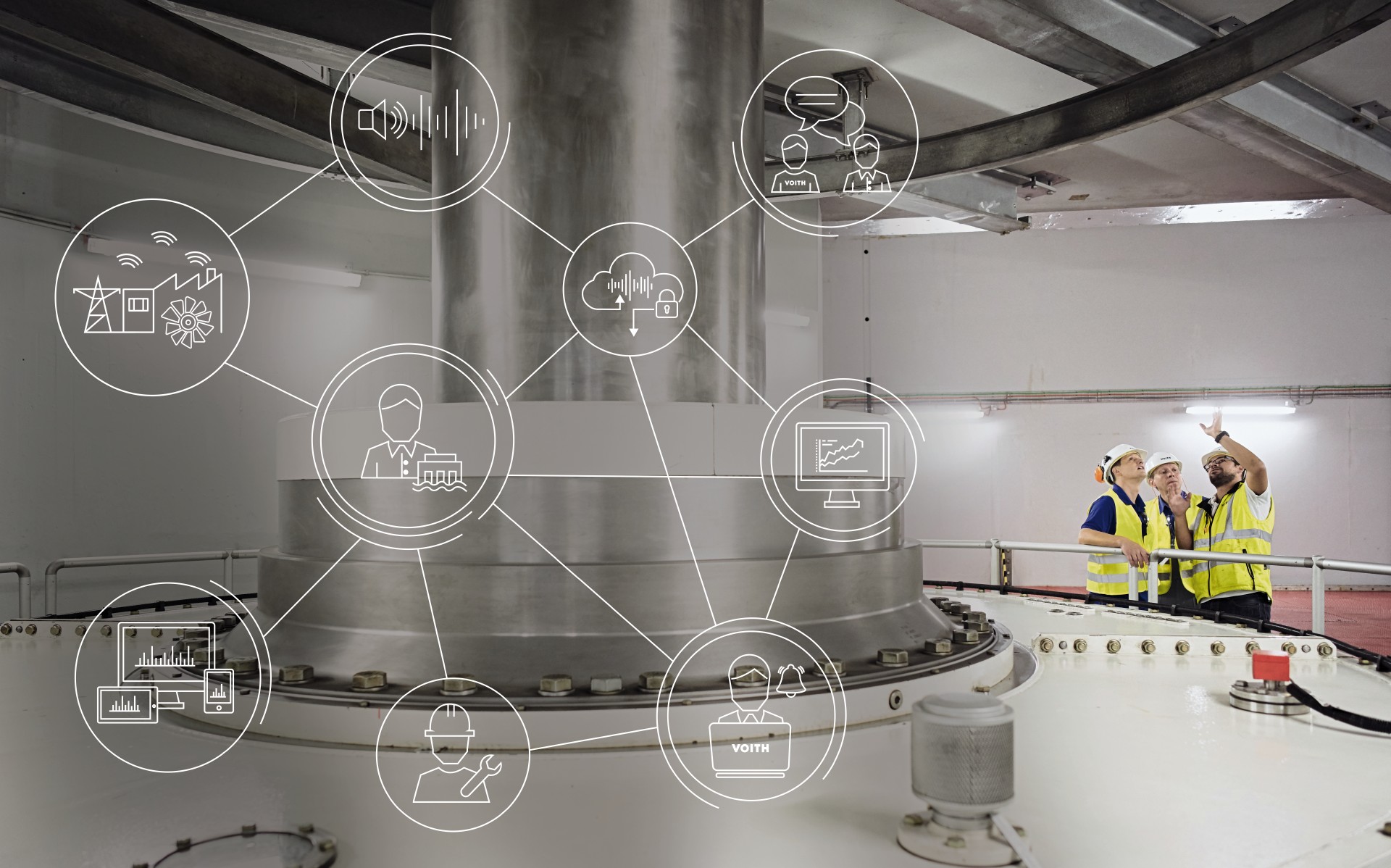 A look at a current project shows how this functions: In April 2018, Voith and Landsvirkjun, Iceland's national energy company, started a pilot project for intelligent noise analysis in hydropower plants. Voith equipped the Budarhals power plant with the OnCare.Acoustic sound monitoring system.  "The system works with algorithms that, after a learning phase, provide initial findings as to whether unusual noises have occurred that could indicate defects," said Dr. Jens Haag, Head of R&D Advanced Controls and Data Analytics at Voith Digital Ventures. Possible shutdowns can be prevented proactively in this manner. "Ongoing data recording and evaluation also helps in optimizing power plant operation," added Haag. Maintenance work and upcoming repairs can be planned transparently and efficiently. The energy company saves time and money and gains new insights into process optimization thanks to the data.
Voith is listening
Algorithms like those used in OnCare.Acoustic analyze data, draw their own conclusions from the data, and derive actions. The response could be an alarm when the algorithm detects an error in the system or a status message to an operator about upcoming maintenance. Algorithms are not fixed; they process any data fed to them. At Budarhals, the operational noises of the power plant and its turbines are recorded with a microphone and converted into digital data. In addition to the use of algorithms, Voith's domain knowledge plays a critical role. The company has more than 100 years of experience in operating hydropower plants. "We are well acquainted with these systems and know how they work and what the noises they generate mean," said Bastian Berg, project manager and expert on automation and data analysis at Voith Digital Ventures.
Learning from noises
The OnCare.Acoustic algorithm requires data from turbine operations, including unknown ambient noises, in order to understand precisely how the hydropower plant operates in a normal state. This is the only way to proactively detect deviations and noise anomalies and therefore possible problems. Again, Voith's domain knowledge is put to good use. Through the OnCumulus IIoT platform, Voith collects data from various hydropower plants including data resulting from problems. This data can be transferred from one power plant to another and can be used to train the algorithms. During the initial phase, the project managers in Budarhals measured between 10 and 15 unknown ambient noises per day, which were initially evaluated and documented manually. The experts used these and the known noises to train the algorithm. Over the course of the pilot project, the algorithm was able to work more on its own and recognize more and more noises.
Initial data check on site: BlueBox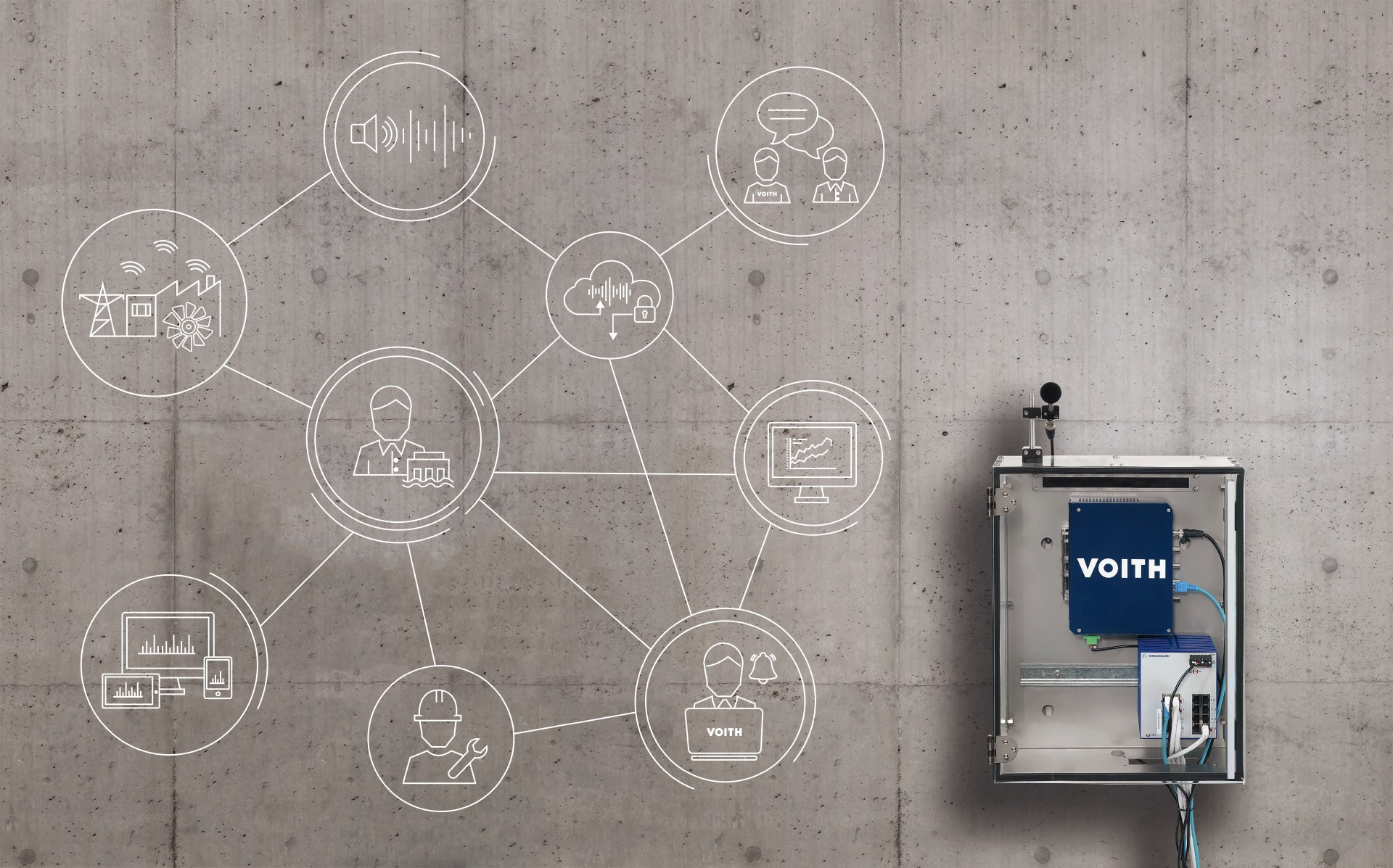 The initial processing, that is the preparing of data, takes place in the power plants within the BlueBox. Because the turbines are often in remote locations and operated by few maintenance personnel, the BlueBox transfers the data to the OnCumulus IIoT platform where it is further processed centrally. The data is transferred to the cloud as sound snippets only a few seconds in length. A small program, a message broker, accepts it there and forwards it. The data is then saved and through microservices, another small program, used either for automating training purposes or for manual data analyses and reports. These analyses lead, for example, to guidelines for maintenance personnel or decision-making support for technical support.
Algorithms work according to their own rules – with human supervision
Normally, algorithms work with pre-programmed rules such as if-then queries, for example. If a suspicious noise is measured, then trigger alarm. An AI algorithm functions differently. There are no stored if-then rules; instead, multi-layered process sequences are used, in which the algorithm processes a variety of data and moves along a decision tree of many branches. If there is an audible anomaly, for example, an algorithm can check whether the problem is system dependent. It then makes a decision and checks whether the data is correct or incorrect based on the data that is continually collected. For example, if a problem can be attributed to a specific component, the sound anomaly must disappear as soon as the component is switched off. The algorithm, like humans, learns by trial and error and can derive its own rules for further analyses.

So that the AI algorithm can model these rules, it needs supervision for some time. During Unsupervised Learning, the AI algorithm receives data that is neither categorized nor classified from which it derives models and rules completely on its own. Afterwards, these models and rules can be manually assigned to specific categories or (status) classes. During Supervised Learning, humans categorize and classify the data in advance for the algorithm, which learns its own prognoses from this over time. During Reinforcement Learning, the algorithm learns through trial and error, that is, through positive and negative reinforcement.
Deep learning: "Thinking" in network structures
Some Voith AI algorithms build an artificial neural network with functions inspired by the human brain. From a technical point of view, this network corresponds to a mesh of many mathematical functions in many layers (therefore "deep learning"), which enables the software to learn on its own. Initially, this neural network is a blank page waiting for data. Training with real data turns a blank neural network into a powerful algorithm. The actual capital is found not so much in the software, but rather in the high-quality data and domain knowledge from Voith. OnCare.Acoustic is successful because Voith brings with it more than 100 years of knowledge. This experience with the operation of hydropower plants is indispensable in enabling the algorithm to deliver valid results.
Budarhals: From pilot to product
The pilot project at Iceland's Budarhals hydropower plant has been completed, and Voith offers OnCare.Acoustic as a separate AI product. At the same time, Bastian Berg's team is continuing to collect data for the algorithm, because the volume of qualified data will improve the forecasts by the machine. "With our noise pattern analysis, we will be able to tell operators of hydropower plants in the future when the perfect time is to replace mechanical spare parts, for example. Maintenance work and upcoming repairs can therefore be planned transparently and efficiently," said Berg to summarize the product benefits.
---
Author: Dr. Jens Haag
As a graduate engineer in process engineering, Dr. Jens Haag received his doctorate in control technology. With more than 15 years of experience in the area of Advanced Process Controls and Machine Learning, he has been the head of the R&D Department for Data Analytics, Artificial Intelligence & Advanced Controls of Voith Group since 2019.
Contact your expert
Data, algorithms and deep learning: how artificial intelligence works
InternetofThings

Dr. Jens Haag
Head of the R&D Department for Data Analytics, Artificial Intelligence & Advanced Controls

Contact
---
Budarhals in figures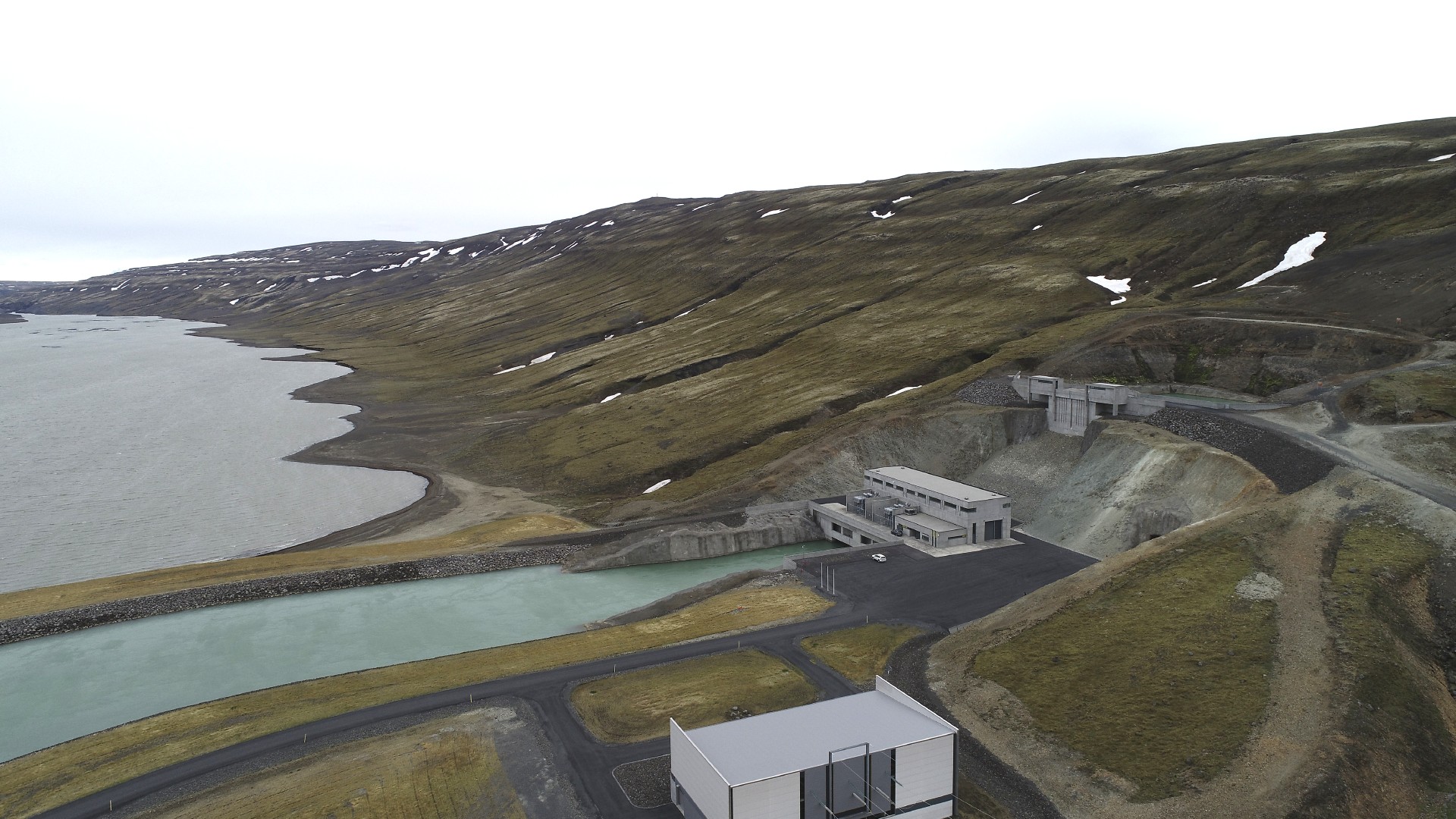 The Budarhals hydropower plant is east of the capital Reykjavik, on the Tungaá river, where some 280 cubic meters of water per second flow through two modern and environmentally friendly Kaplan turbines. The power plant produces 585 gigawatt hours (GWh) of electrical power per year, which represents about 4.2 percent of Iceland's total energy requirement. Iceland generates close to 100 percent of its power requirement through renewable energy. Landsvirkjun, Iceland's national energy company that operates the plant, supplies three-fourths of this energy through one hydropower plant, three geothermal power stations, and two wind turbines. The enormous task of supplying the entire island with energy is carried out by 270 permanent employees.

---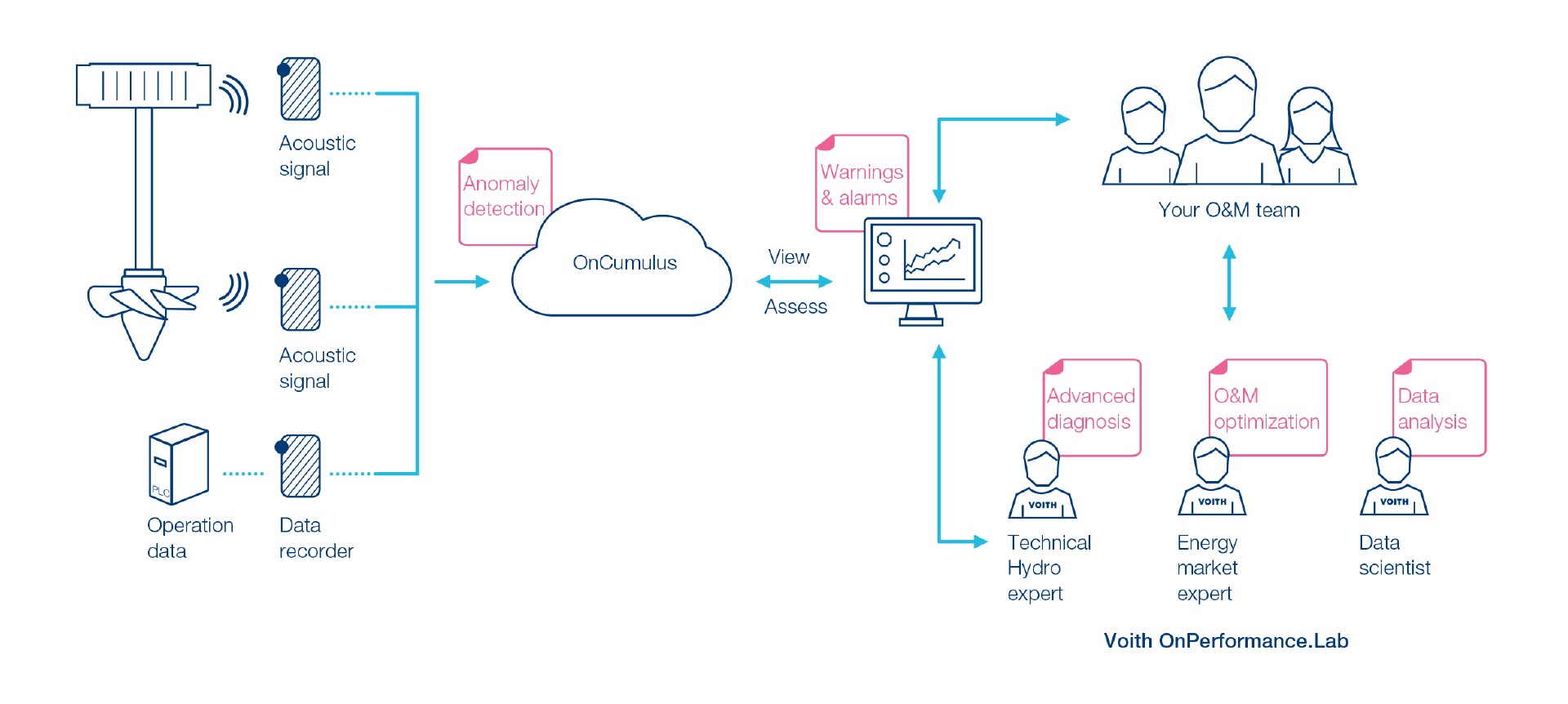 ---