Flagship to Fishbourne
Flagship to Fishbourne
CommercialVehiclesAutomotive
Serving the route from Portsmouth to Fishbourne Wightlink's new flagship MV Victoria of Wight has been customized to perfectly meet the needs of challenging harbor situations. Cycloidal Voith Schneider Propellers (VSP) provide both safety and economy due to high reliability and precise maneuverability.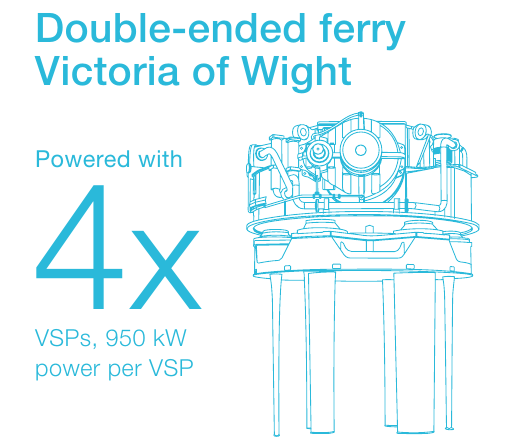 Welcome to Portsmouth, England. Located about 110 kilometers southwest of London, Portsmouth is the only island city in the United Kingdom and is inhabited by more than 1,500,000 residents in the metro area. An important mode of transport is the ferries operated by Wightlink serving routes to the Isle of Wight. Since entering service on August 26, 2018, the harbor of Portsmouth is home to a new flagship: The MV Victoria of Wight.

Being the largest ship in Wightlink's fleet of ferries, the Victoria of Wight is in many ways a unique vessel. Built at Cemre Shipyard in Yalova, Turkey, this innovative ferry runs on a hybrid diesel-battery propulsion system, which minimizes fuel consumption, emissions and noise levels. This is particularly important due to its operation close to residential properties and Wightlink's green agenda.

To ensure Victoria of Wight's excellent maneuverability needed to maintain a tight schedule in shallow draft and narrow harbor conditions, four VSPs have been installed. These 5-bladed cycloidal propellers combine propulsion and steering in one unit. Fitted within the hull the propeller blades protrude from the rotor casing and rotate around a vertical axis. Each blade performs an oscillatory motion around its own axis, which is superimposed on the uniform rotary motion. Along its cycloidal path through the water the blades generate hydrodynamic lift, which effectively results in propeller thrust. The magnitude of the thrust is determined by a combination of these blade motions, with the ability to vector the resultant thrust 360 degrees in a few seconds. This ingenious propulsion system design therefore greatly increases maneuverability compared with conventional thrusters and offers precise, effective and reliable propulsion.

Operating on a tight schedule the Victoria of Wight must navigate confined harbor areas quickly and safely. Thanks to the VSPs the captain and helmsman can do this smoothly and reliably. Thus a full 15 to 20 minutes turnaround time is available for the loading and unloading of 1,208 passengers and 178 cars. Time savings due to swift berthing and unberthing with VSPs allow ferry operators to minimize their crossing speed, saving significant amounts of energy.

The Victoria of Wight is equipped with a customized control system delivered by Voith. The control system features a combinatory mode, which automatically and continuously optimizes the propeller speed and pitch setting to provide the best efficiency. This feature, as well as the other benefits of Voith Schneider Propulsion, significantly minimizes the vessel's energy consumption and leverages the overall reduction of fuel costs and emissions complementary to the hybrid system.

Interactive VSP: virtual training for real gaining
Experience the VSP in action on your digital device and make yourself familiar with the fast maneuvers that are only possible with this innovative propulsion system.

The new version of the interactive VSP desktop app (iVSP 2.1) allows you to control virtual marine vessels such as the featured double-ended ferry MV Victoria of Wight with four VSPs. A new training mode lets you try its excellent maneuvering capabilities. As the captain of a VSP tug you can still use the free-driving mode and see how your tug responds to the commands of your virtual joysticks.

When mastering the course during simulation training you can follow the 3-D model of your ship or switch to visualization modes that show propeller motions and hydrodynamic forces. The simulations are based on real physics and kinematics, so you get a true feeling for the VSP's uniquely fast dynamic responses.

iVSP 2.1 is freely available in the desktop version at www.voith.com/ontrack3-iVSP2.1 and will soon also be available in Apple AppStore and Google Play where you can already find the tug version of the app (iVSP 2.0).