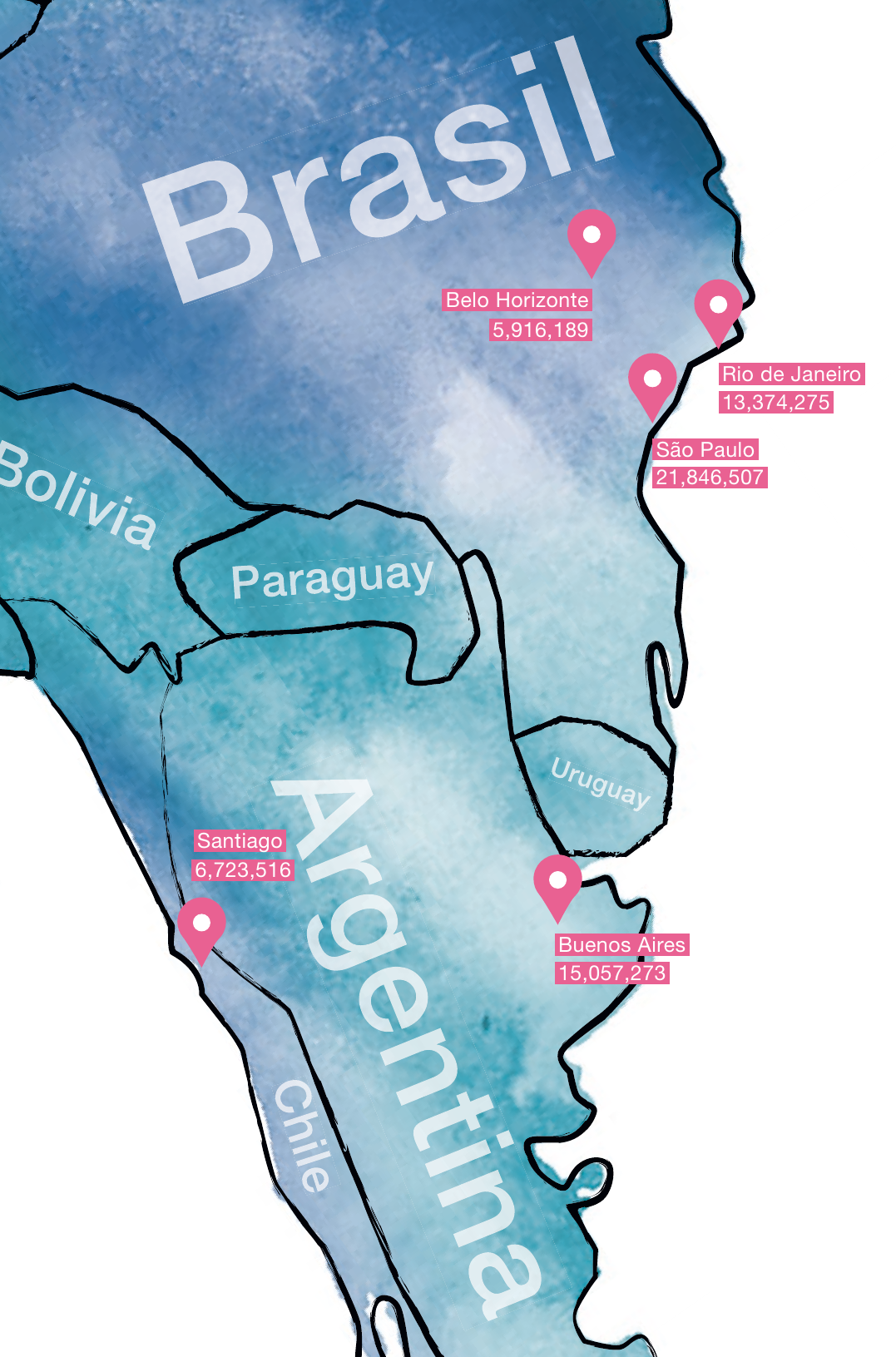 Brazil
São Paulo - 21,846,507; Rio de Janeiro - 13,374,275; Belo Horizonte - 5,916,189


●

 DIWA units in operation: 6,400


●

 Voith Turbo center: São Paulo


●

 BRT system: SPTrans
Voith impact on SPTrans:
- close to 4,500 buses equipped with DIWA
- introduction of the first DIWA.6 in Brazil, 1,000 units planned for 2019

Chile
Santiago - 6,723,516


●

 DIWA units in operation: 3,100


●

 Voith Turbo center: Santiago


●

 BRT system: Transantiago
Voith impact on Transantiago: 500 new Mercedes- Benz and 120 Volvo buses equipped with DIWA.6 delivered in 2018 (operation start February 2019 )

Argentina
Buenos Aires - 15,057,273


●

 DIWA units in operation: 1,100


●

 Voith Turbo Center: Buenos Aires


Mexico
Mexico City - 21,671,908; Guadalajara - 5,100,527; Monterrey - 4,314,487


●

 DIWA units in operation: 1,000


● 

Voith Turbo center: Mexico City

Cuba
Havana - 2,138,419


●

 DIWA units in operation: 300

Costa Rica
San José - 2,273,850


● 

DIWA units in operation: 140

Panama
Panama City - 1,821,693


● 

DIWA units in operation: 825


●

 Voith Turbo center: Panama City


●

 BRT system: MiBus

Colombia
Bogotá - 10,779,376


● 

DIWA units in operation: 2,450


●

 Voith Turbo center: Bogotá


● 

BRT system: TransMilenio

Peru
Lima - 10,554,712


●

 DIWA units in operation: 160
Urban bus benefits in Latin America
Urban bus benefits in Latin America
CommercialVehiclesAutomotive
For over 25 years Voith has teamed up with local players to deliver the most efficient and reliable technology in public transport. As a market leader in many segments, Voith has empowered business and private life to thrive and prosper.
Rapid urbanization has drawn a vast majority of Latin America's 640 million inhabitants to the prospering big cities. But increasing mobility has often caused congestion and air pollution. All 20 countries of Latin America are very much tied to traditional public transportation such as buses, trains or metro systems. Large cities must transport huge numbers of commuters to and from work. In order to achieve this they have established integrated public transportation systems such as Bus Rapid Transit (BRT) or similar. Buses have a significant role in urban mobility solutions due to the implementation speed and costs. BRT systems deliver, with advanced operational strategy and technology, increased capacities, better performance and comfort. Today some megacities, such as Mexico City, Bogotá, Santiago, São Paulo or Panama City, have become role models for highly developed public transport. Voith has contributed to the significant improvements with technology and equipment such as automatic transmissions, retarders, air compressors and services. Because of early investigations in local applications and a deep knowledge of original equipment manufacturers' (OEM) and bus operators' demands, Voith has achieved a strong presence in Latin America and has become market leader in automatic transmissions for high-performance bus applications.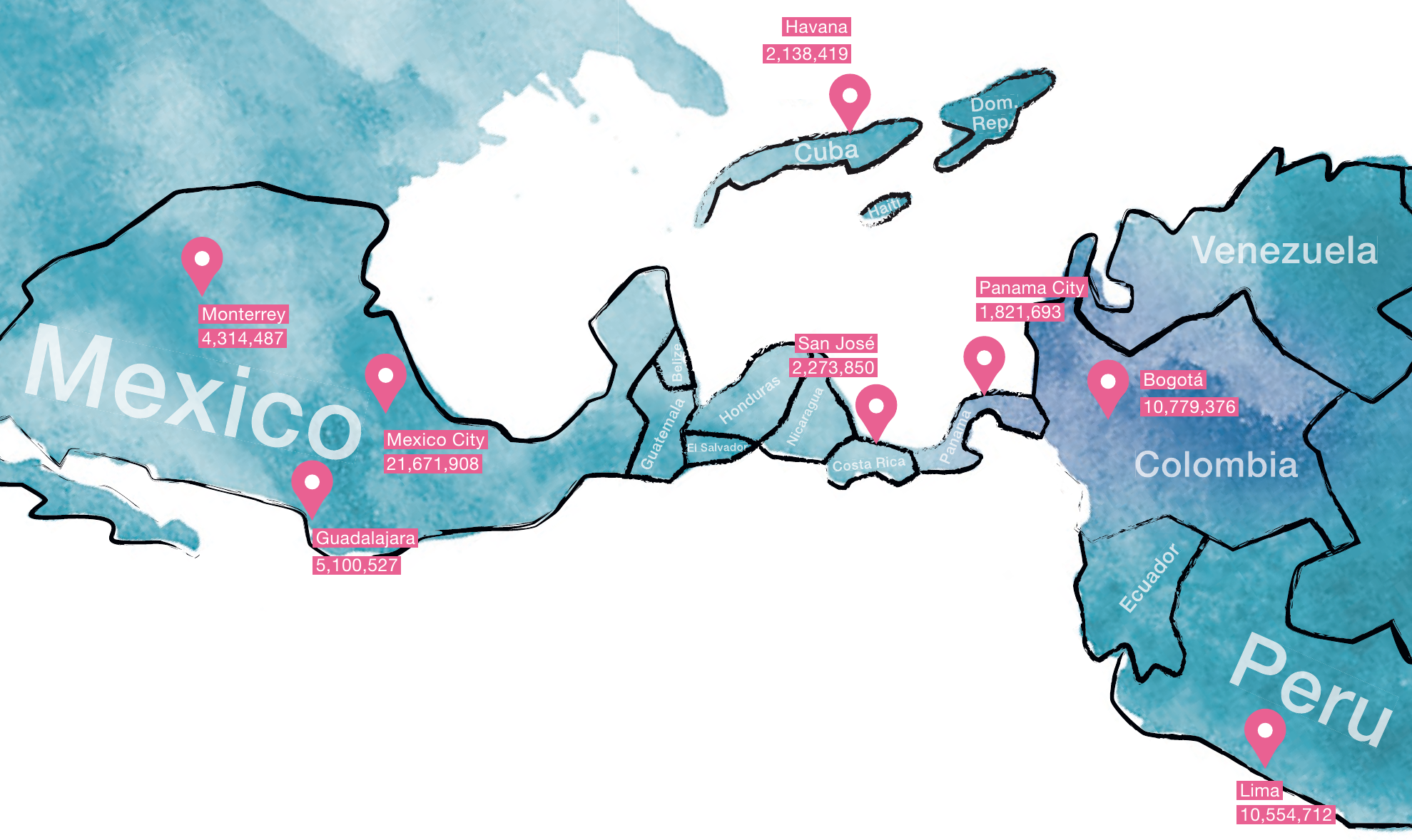 Key benefits DIWA automatic transmission
●

 Lower fuel consumption


●

 Reduced air and noise pollution


●

 Maximum comfort for passengers


●

 Low maintenance costs


●

 High reliability for high-performance applications

In 1993 the first DIWA automatic transmission started operation in Latin America. Today there are more than 15,000 in operation in the region, with 9,000 of them used in BRT systems. Since 1998 operational data has been used for continuous improvements of the product and services. Today, embedded technology has been offered as a result of the most-accurate data analytics, so that Voith DIWA automatic transmissions are reaching outstanding levels of performance and efficiency during the vehicle's life cycle, which can last for over 18 years or more than 1.4 million kilometers.
            

The well-proven DIWA principle, combining a continuous variable transmission with power-shift gears, is the perfect solution for all urban applications. The single overdrive and integrated secondary retarder offers the most reliable package for inner city, BRTs and suburban systems.
Voith's strategy to deliver global technology with local competence and a deep understanding of the local needs has proven successful in many projects in Latin America (see map). For the years to come, public transport by bus will continue to be the backbone of mobility in Latin America's large cities. In the long term, different electrification strategies will increase the quality of urban high-performance bus travel with more efficiency, less noise and lower emission levels.